Lonavala is a town and a hill station Municipal Council  in Pune district  in the Indian State of Maharashtra. It is about 64 km west of modern-day Pune city and 96 km to the east of Mumbai. It is known for its production of the hard candy chikki and is also a major stop on the railway line connecting Mumbai and Pune. From the Pune suburbs, local trains are available from Pune Junction . Both the Mumbai-Pune Expressway as well as the Mumbai-Bengaluru highway pass through Lonavala.
HISTORY OF LONAVALA :
Sir Elphinstone, who played a major role in establishing Mumbai also found Lonavala in 1811. Back then, Lonavala had nothing except cliffs and hills full covered in a green sheet of forests. The Maratha reign was not long and in 1818 the British began their rule. Many researchers say that it derived it's name from Sanskrit word Layan, which means to lay or relax. The local tribes then used to speak in the local language called "Prakrit" and called "len" as the places where you rest. Since the entire region was rocky, they termed it as "Avali" or anything in series, here the rocks. Hence the term Lenavali was framed, which continued to be finally named as Lonavala. This is only available hypothesis on how the hill station got it's name.
Lonavala was a part of the Yadava dynasty. Later, the Mughals realized the strategic importance of the region and kept the region for an extended time. The forts in the region and the "Mavala" warriors played an important role in the history of the Maratha Empire and that of the Peshwas. In 1871, the Lonavala and Khandala hill stations were discovered by Lord Elphinstone, who was the Governor of Bombay Presidency at the time.
GEOGRAPHY OF LONAVALA :
Lonavala is located in the western part of the state of Maharashtra, in the western region of India. With it's natural beauty like green valleys, beautiful waterfalls and the pleasant cool climate, Lonavala is rightly called as the "Jewel of Sahaydri". The average altitude of the region is about 622 meters (2041 feet) above sea level and the entire area spreads across 38 square kilometers.
Climate in Lonavala
This city has a tropical climate. Rainfall is significant most months of the year, and the short dry season has little effect. The average annual temperature in Lonavala is 24.1 °C. The rainfall here averages 4073 mm.
HOW TO REACH LONAVALA:
Pune to Lonavala by Road:
Take the Mumbai-Pune highway to cover the 65 km distance in about 1.5 hours. After the first 23 km, exit at Baner Road and continue on NH48. After another 17 km, exit NH48 at Gharkul Society for Lonavala. This route has well maintained roads and many options for fuel and refreshments along the way.
Mumbai to Lonavala by road:
Lonavala is situated at a distance of approximately 96 km from Mumbai. It is well connected to Mumbai by road and train but the best way to reach Lonavala from Mumbai is by road which takes about 1 hour 20 minutes. The Mumbai–Pune new Expressway route is an amazing way to reach Lonavala but two-wheelers are not allowed on this route.
TOURISM:
Lonavala is among the top hill stations in Maharashtra and also among the best tourist places to visit near Mumbai & Pune.
Lonavala provides a panoramic view of the lush green surroundings of the Sahyadri ranges. The peaceful environs of the town, which provides a great escape from the hustle and bustle of Mumbai city, attract tourists to this place. Travelers can take a walk along the waterfalls, the grassy abundance and hills in and around Lonavala. The mountainous terrain of Lonavala is ideal for trekking and hiking.
There are Villas in Lonavala for stay which are private where you can have a stay with your families or friends with private swimming pool and other activities inside.
THINGS TO DO AT LONAVALA :
1) Trekking at Lohagad fort:
A robust climb of about 11.2 km from Malavali railway station takes you to the 'Iron Fort', once a formidable battle-station of Chhatrapati Shivaji Maharaj. The fort commands a view of the surrounding hills and hamlets.
2) Della Adventure Park:
Della Adventure Park is India's largest adventure park situated in popular Lonavala hill station. It is a very big theme park cum resort. It also serves as a corporate training destination for companies in Mumbai & Pune. The park has spread over an area of 36 acres. It is located at about 3000 feet height above MSL (mean sea level). Della Adventure Park offers close to 52 adventure activities.
3) Adventures at Dudhiware waterfall :
Dudhiware waterfall is seasonal monsoonic waterfall and is located at Dudhiware village, near Lonavala. This 2-tier waterfall falls at the height of about approximately 135 feet from a rock structure. One can enjoy the beauty of Dudhiware waterfall and also thrill of water rappelling, zip lining, valley crossing, etc.
It's streams are active during peak monsoon season. The only season for waterfall rappelling is during the monsoon. At this time the streams and rivers run full and all the plateaus drain rainwater into waterfall at the cliffs.
4) Camping at Pawna lake :
Pawna lake camping is really famous and attracts a lot of corporate and young crowd. Tents are placed around the periphery of the lake and one can enjoy the meals and recreation on the waterfront. The establishment becomes lively with live music, bonfire, games and barbeque dinner, turning the evening into a perfect getaway.
5) Get wet at 'Wet n Joy' :
Wet n Joy Park, two hours away by road from Mumbai and Pune. Features 25 adrenaline-pumping rides which are family-friendly as well.  The park's highlight is the 60,000 square feet wave pool, housing eight types of waves. Float down the Crazy River, shake a leg at Rain Dance, go for a heady spin with rides like Nightmare and Cyclone or splash away at Royal Castle, a giant aqua station for kids. The park also has four multi-cuisine restaurants for satiating those hunger pangs.
6) Paragliding at Pawna lake :
A must visited destination for adventure lovers, paragliding here lets you enjoy a wonderful flight over Pawna Dam. Plus, watching the sunset at the horizon as you fly like a kite, is certainly an exhilarating experience.
Paragliding helps you to break the chains of gravity and open the gates to the skies. It's not just about paragliding, it's the way you look at life.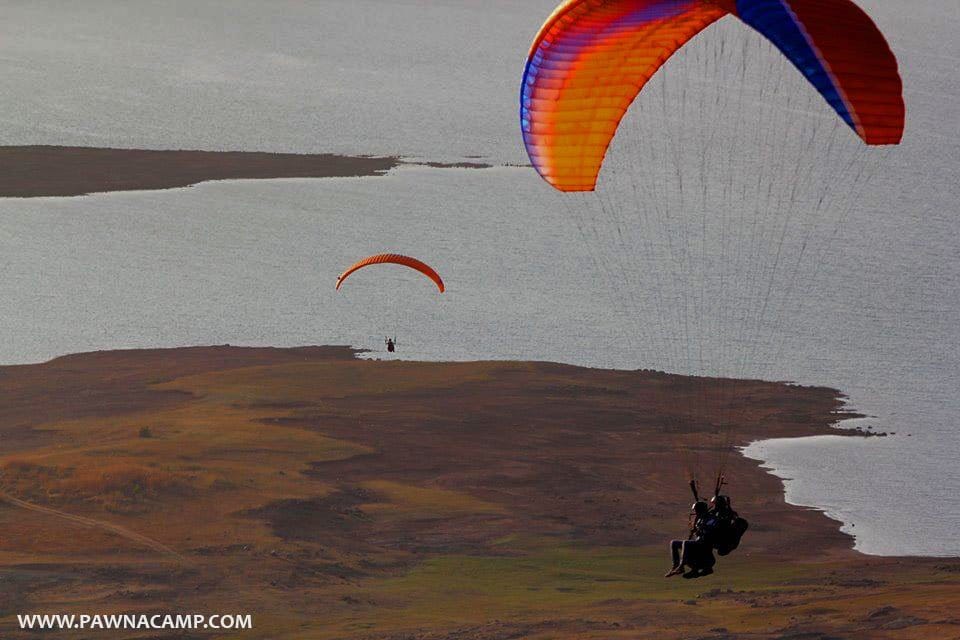 7) Eat Chikki and Fudges lively :
Lonavala, the land of picturesque hills is also equally famous for local fudge and chikki. There are few very famous chikki and fudge manufacturing stores like Cooper's chikki and fudge, Della fudge and chikki store at Della Adventure, Maganlal chikki, etc.
8) Boating at Malavandi lake :
Making time on the water is among the favourite recreational activity during summers.The exquisite beauty of the gleaming water under the sky can be thoroughly rejoiced only by boating experience and Malavandi lake near Pawna Dam surve you such experience of boating. Malavandi is located at 5.1km from Pawna Dam and 9.8 km from Lonavala.
9) Kayaking at Pawna lake:
Though kayaking has slowly gained popularity among the adventure community, it is still an activity that's outside the mainstream in India. It remains rather than competitive sport. Nevertheless, now kayaking is available at Pawna lake near lonavala.
Everyone should experience kayaking at Pawna lake because it can be so peaceful, yet you are right there in nature. However taking up kayaking can have more long term benefits to your physical and mental well-being than you realise.10) ATV ride, camel safari at lions point and Tiger point :At a distance of 12km from Lonavala railway station. Lions point is a vantage point located midway between Bhushi Dam and Amby Valley in Lonavala. It is one of the popular views points in Lonavala and also among the must visit places in Lonavala.
SIGHTSEEING :
Lonavala's close proximity to the cities of Pune and Mumbai makes it a popular destination for one day tour. The beauty of the town is heightened during monsoons. Numerous waterfalls, lakes, and hills in Lonavala bring respite from the fast city life of Mumbai. Families, couples and especially hikers and trekkers visit Lonavala throughout the year.
1) Rajmachi Point
Rajmachi Point is located about 6.5 km from Lonavala. This point commands a view of Shivaji maharaj's fort, Rajmachi (Royal terrakouioce) and the surrounding valley. Regular State Transport buses ply between Rajmachi Point and Lonavala from the State Transport Bus Stand. The Vaghjai Dari is also located here.
2) Ryewood Park & Shivaji Udyan
This is an extensive garden situated in Lonavla. The garden has a number of tall trees – some of which are very old. There is an old Shiva temple in the park.
3) Valvan Dam
Valvan Dam is a Britisher built garden and is more than a century old. This dam has a garden at the foot of its wall, and is a popular evening spot 2 km from the town. The dam supplies water to the Khopoli power station at the foothills of the Sahyadris for generating electricity. The Kundali River feeds into the dam's reservoir.
4) Lonavala Lake
Lonavala Lake is surrounded by natural scenery, about 1.6 km from the town. The lake dries up during the winter and summer months offering an expanse of green grass which is used by walkers and joggers.This place attracts tourists for its street food, including convenience food items like smoked corn on the cob, shaved ice (gola), vada pav, chaat, and hot ginger tea.
5) Duke's Nose
Duke's Nose stands 12 km from Lonavla, clearly visible from the highway while driving towards Mumbai. This landmark in Khandala is visited by hikers.Also known locally as Naagphani (Cobra's Hood), the cliff owes its name to the Duke of Wellington, whose ample nose it resembles.
6) Tiger's leap
Tiger's Leap also known as Tiger's Point is a cliff-top with a sheer drop of over 650 m, giving an extensive view. Buses are available up to INS Shivaji and the remaining distance of about 1.6 km has to be covered on foot. Legend has it that while being chased by a tiger once, the Maratha Empire king Shivajijumped into a ditch on the hill and the tiger leaped off it into the valley giving it the name of tiger's leap.
7) Karla Caves
Karla Caves, located near Lonavala, is a complex of cave shrines built by Buddhist monks around 3rd to 2nd century B.C. A temple of Goddess Ekvira Devi is also present here.
8) Visapur Fort
Adjacent to the Lohagad fort lies the visapur fort which is part of the Lohagad-Visapur fortification. Visapur Fort is larger and at a higher elevation than its twin- Lohagad. It was built during 1713-1720 CE by Balaji Vishwanath.
9) Bhushi Dam
A waterfall near the dam is located between Lonavala and I.N.S. Shivaji. Buses running on the I.N.S. Shivaji Road stop here.
10) Lion Point
This is a viewpoint midway between Bhushi Dam and Aamby Valley which overlooks a deep valley and mountains known for its roasted corn and onion fritters. This point does not have any lions but is named so because it is associated with the Lions Club of Lonavala.
11) Narayani Dham
Narayani Dham is a temple constructed in 2002 in honor of the Hindu Goddess Narayani. It is at a distance of 2 km from the Lonavala railway station. The temple has idols of Durga Mata, Salasar Balaji (Hanuman) and Ganapati housed in a marble structure.
12) Tungarli Dam
This lake and Dam comes to life during the Monsoon season, where some people climb the mountain top to the Dam. This dam was built during the British era and features a serene surrounding of trees and hillocks.
13) Shooting Point
Another viewpoint in the town of Khandala (Bazaar peth), provides views of the Rajmachi Fort and the valley. Also the home for the St. Mary's villa.
14) Seven villas
One of the most iconic plots in Lonavala, seven Villas is an iconic landmark of the new developing Lonavala.
PLACES FOR CAMPING IN LONAVALA :
1) Pawna Lake Camping
It's a serene place and is a fabulous weekend gateway. Greenery encompasses this lake, making it a delight for those who want to spend time in the lap of nature. You can trek to the nearby hills, listen to music, camp there and enjoy flavorful food cooked by the locals. The locals there provide you a safe spot, security, tents, food and also a speaker that you can connect with your phone or laptop and listen to music while you star-gaze in the night. It's not crowded, is very silent and a great place to breath fresh air.
2) Camping at Jadhavwadi lake (Mindpeace Camping)
You have a chance to explore the untouched beauty of Jadhavwadi lake. It is the most excellent place for overnight camping near Pune and Mumbai.
3) Camping at Rajmachi fort Base :
Rajmachi is a fort located near lonavala it offers an amazing view of the sahayadri mountains and the backwater of Shirota dam.
4) Camping at Shirota lake :
Though Lonavala in Mumbai is overflowing with offbeat locations, Shirota Lake is a spot every nature lover would love to explore again and again. Here is a camping package that is extending a hearty welcome to all those special people who are looking for a total change from their daily life scenes.
5) Camping at Tikona fort base :
Take off for a peaceful outdoors experience where you'll get to sleep in tents, spend the evening under the stars, and grill your own barbecue. This charming campsite is located at the base of Tikona fort, with views of Pawna lake and the valley.
6) Camping at Malavandi lake :
The exquisite beauty of the gleaming water under the sky can be thoroughly rejoiced only by boating experience and Malavandi lake near Pawna Dam surve you such experience of boating.
BEST TIME TO VISIT LONAVALA :
Peak Season to visit Lonavala is from October to February, when the weather is perfect to stroll around and just sit outside.
Shoulder Season: June to September is monsoon season, when Lonavala sees heavy rainfall. If you don't mind exploring with an umbrella in hand, then you will be rewarded with gushing waterfalls and glowing green surroundings.
Off-season: March to June is summer season in Lonavala and the temperature stays at anywhere between 25 to 35 degrees Celsius. So if you find yourself here in these months, stay indoor in the morning, and head out only when it becomes cooler in the evening.
Thank you Information for Families for giving us opportunity to post this article.